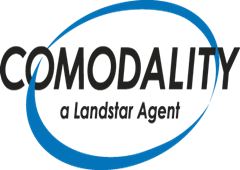 Member ID: 00260
Joining date: 2020/03/16
Expires date: 2023/06/15
Company Introduction
Comodality ApS is the official agent of Landstar in Denmark. Comodality Group is an independent privately owned Nordic Based provider of international freight forwarding and project logistics solutions offering a complete portfolio of shipping and logistics, including Air Freight, LCL & FCL Ocean Freight, Road, Reefer and Rail Transport, Project Cargo, Customs, Warehousing, Turnkey Projects, etc.

We offer high quality solutions through personalized craftsmanship and share a profound dedication in finding the best solution for our customers.

The company also provides tailor-made end-to-the logistics solutions for the Food & Beverage, Marine & Cruise, High-Tech & Telecommunication, Pharma & Healthcare, Power & Energy, Oil & Gas, Fashion Logistics and Projects Logistics.
Comodality ApS
Country/Region: Denmark
City: Copenhagen
Website: www.comodalitygroup.com
Company address: Jernholmen 54-56, Hvidovre
Contact: Soren Holmegaard Jensen
Tel: 45-51568850
Skype:
E-mail: soren.jensen@co-modality.com