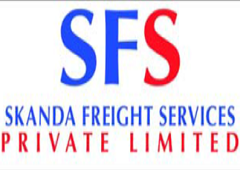 SKANDA FREIGHT SERVICES PRIVATE LIMITED
Member ID: 01303
Joining date: 2020/10/29
Expires date: 2021/10/28
Company Introduction
We are a Global Freight Forwarding Company with headquarters in Muscat (since 2009), Oman. Started Indian office operation on 2018.We are determined to satisfy the increasingly sophisticated needs of International Trade by offering customized solutions seamlessly through our worldwide agency network, staffed by dedicated team of experts.
Our staff is carefully selected and highly experienced in the shipping industry. Working only for ship owners and managers, our operations people understand client requirements, urgency and concerns of such a dynamic industry.
As one of the Leading NVOCC agents in India, Skanda Freight Services has vast experience and reputation in the freight forwarding industry in addition to our effective network of agents, so we're always is ready to providing customers a Cost Effective and One-Stop Solution for all of your logistics requirements. such as import.
SKANDA FREIGHT SERVICES PRIVATE LIMITED
Country/Region: India
City: coimbatore
Website: www.sfs-india.com
Company address: NO 22,BHARATHI PARK,SAIBABA COLONY,
Contact: RAJ.V
Tel: 91-9655336700
Skype:
E-mail: Raj@sfs-india.com