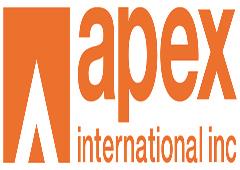 Member ID: 00181
Joining date: 2020/01/15
Expires date: 2027/04/14
Company Introduction
- Together with a group of well experience staffs, we established Apex International. We take this step to face the new challenge and new century that lies ahead of us.
Today logistics goes beyond the traditional functions of cargo handling, inventory management and transportation arrangement.
As the world move towards a knowledge base and hi-tec transportation, we are here to participate and enable a smooth excellent service.
We conduct our business in accordance with high ethical standards.Transparency, integrity and professionalism are our hallmarks because we believe in long-term mutual benefit for the client and ourselves.
We attribute our success to ability and willingness to respond to the constantly changing market environment that has come to characterize the field of international trade.

Apex International Inc
Country/Region: Japan
City: Tokyo
Website: www.apexintl.co.jp
Company address: 7Fl, Toyokuni Bldg, 2-4-6 Shiba-Daimon, Minato-Ku, Hamamatsucho, Tokyo,Japan.
Contact: Steve Ko
Tel: +81-9022480377
Skype:
E-mail: steve@apexintl.co.jp