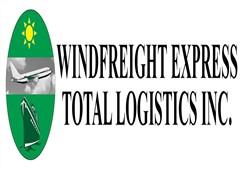 Windfreight Express Total Logistics Inc.
Member ID: 00190
Joining date: 2020/01/21
Expires date: 2022/04/26
Company Introduction
COMPANY SUMMARY
-Founded in May 2002.
-An organization dedicated to meet all clients' logistical needs.
-Established as an International Freight Forwarder, Non Vessel Owning Common Carrier (NVOCC), Cargo Consolidator.
-Related services - Customs Brokerage, Trucking & Warehousing.
-Strategically located near the International Airport for easy access to logistics operations catering import & export shipments

OTHER SERVICES:
√ International/Domestic Air and Sea Freight Forwarding
√ Customs Brokerage
√ Trucking Services
√ Special Packing and Crating
√ Door to Door Delivery/ PICK UP & Delivery
√ Philippine Economic Zone Authority (PEZA)processing
√ Documentation and Consultancy

OUR VISION
To be one of the leading and most trusted total logistics provider globally.

OUR MISSION
To live-up to the company name, exceeding customer satisfaction with quality service, honesty & dedication
Windfreight Express Total Logistics Inc.
Country/Region: Philippines
City: Paranaque
Website: http://www.windfreightexpress.net/
Company address: Unit C-707 Columbia Airfreight Complex NAIA Avenue,Barangay Sto.Nino
Contact: Ella Bansil
Tel: -
Skype:
E-mail: bdm@windfreightexpress.com