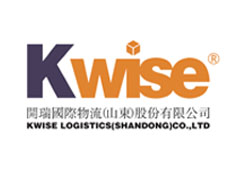 Kwise Logistics (Shandong) co., Ltd.
Member ID: 00255
Joining date: 2020/04/01
Expires date: 2024/07/04
Company Introduction
Kwise Logistics (Shandong) Co., Ltd established in 2003, headquartered in Qingdao, China with strong presence in both general cargo and project cargo. In 2015, we were publicly listed in NEEQ (STOCK code: 832879).Kwise Logistics is a China based global logistics service provider, well-positioned in the logistics field's growth market.We offer professional international forwarding services, customs and quarantine procedure, documentation,
advanced warehouse management and a variety of logistics support.
◆ International forwarding service
◆ Worldwide Air freight
◆ Sea freight Worldwide
◆ Sea-railway combined transportation
◆ Sea-Land multimodal Transportation
◆ Customs Brokerage, Packing, Crating
◆ Warehouse, Distribution, Trade show logistics
◆ Project cargo
◆ Supply Chain Management
When you partner with us, you partner with a powerful network.
Kwise Logistics (Shandong) co., Ltd.
Country/Region: China
City: Qingdao
Website: www.kwise-log.com
Company address: Unit A, 7/F, Bldg#7, No.288 Ningxia Road, Shinan District, 266071, Qingdao, China
Contact: Richard Ouyang
Tel: 86-13325009191
Skype:
E-mail: ouyang@kwise-log.com