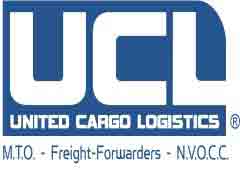 UNITED CARGO LOGISTICS Division of ITALMONDO
Member ID: 00300
Joining date: 2020/04/02
Expires date: 2021/07/01
Company Introduction
United Cargo Logistics was established in 1991 with name of UCL United Cargo Link. We attend to transports all around the world, import and export mainly by sea. We attend also to Air, Road & Rail Shipments.

We are well known and validated by all the customs authorities in the main Italian ports/airports. Our head office is in Milan and we co-ordinate the operational, commercial and administrative activity from this office in strict connection with our offices/reliable operators placed in all Italian ports/airports.

Thanks to our joint action we warrant the fast execution of any required service integrating the transport and the requirements of the shipments.
UNITED CARGO LOGISTICS Division of ITALMONDO
Country/Region: Italy
City: MILANO
Website: www.ucl.it
Company address: VIA GALLARATE 209
Contact: Filippo Aiello
Tel: +39-02-39294691
Skype:
E-mail: Filippo.Aiello@italmondo.com