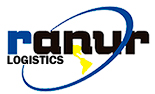 Member ID: 00990
Joining date: 2020/11/23
Expires date: 2021/11/22
Company Introduction
Ranur is a freight forwarder, customs broker and domestic transportation company with offices in the main ports and airports in Brazil and USA.
Established in 1996, Ranur has grown steadily over the years, developing competences in the logistics field and a network of partners that allows the company to offer solutions for all types of transportation all over the world.
Our head office is in Sao Paulo, Brazil main business hub. We have branch offices in Itajai, Paranagua, Santos, Guarulhos, Campinas, Piracicaba, Rio de Janeiro, Recife and Manaus. Other ports and airports are served by our network of representatives.
And in 2016 we start our own office in Miami, USA, with bonded warehouse.
We can offer air/ocean imports and exports, customs brokerage, domestic road and air transportation covering the whole country.
Ranur offers quality, security and agility!
We proudly serve you!
Ranur Logistics Ltda
Country/Region: Brazil
City: Sao Paulo
Website: www.ranur.com
Company address: Av. Mal. Eurico Gaspar Dutra 1955
Contact: Benjamin Min
Tel: 1-7865740664
Skype:
E-mail: bmin@ranur.com