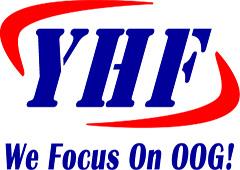 YHF INTERNATIONAL TRANSPORTATION CO., LTD
Member ID: 00162
Joining date: 2019/12/31
Expires date: 2022/03/30
Company Introduction
YHF Int'l Transportation Co., LTD was founded in 2010. Which is a professional logistics enterprise specialized in exporting and importing heavy and large machines handling service.

YHF is a valid NVOCC(MOC-NV07705), and also member of WCA Inter & WCA Projects (69314). YHF mainly dedicated on OOG cargoes booking, trucking, stuffing, lashing, packing, customs clearance, etc.

The over 10,000 square meters Shenzhen warehouse, more than 20 Low-bed trailers and the most advanced air cushion trailers are very beneficial to handle heavy cargoes.

All senior staff are with working experience in shipping lines and terminal, the complete sales network and the professional service team could meet customers' various kinds of request.

As a pioneer enterprise, YHF has grown to the famous leading enterprise in heavy lifts handling in China.
YHF INTERNATIONAL TRANSPORTATION CO., LTD
Country/Region: China
City: Shenzhen
Website:
Company address: RM 1012,Block #2,Fangda City, Longzhu 4th Road, Nanshan District,Shenzhen,Guangdong, China
Contact: Alice Huang
Tel: 86-18320966257
Skype:
E-mail: alice@yhf-shipping.com